Capabilities

Product Research, Development and Design
Paneltronics is committed to providing technologies and systems that make your job easier. We have vast experience designing and engineering control panels and assemblies that provide efficiency and solve common production challenges.
Our engineering and R&D efforts continually generate innovative solutions, which allow us to meet your requirements, no matter what they are. We study your requirements to understand your needs. We ask the right questions and seek the best answers. That is why so many of our existing customer relationships are long term.
Electrical and Mechanical Design and Engineering
One of the secrets to good design and engineering is the people doing the work. Our Design and Engineering Team bring over 200 years of combined experience to every project. Our team specializes in electrical control panels and instrument panels. We are focused on these areas, and our processes and production incorporate the latest technology and equipment to support your requirements.
Electrical and Mechanical Assembly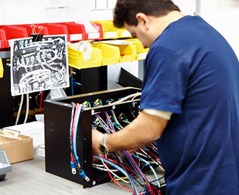 The assembly of parts and components into finished products and sub-assemblies is a critical part of our business. As a result, we give a great deal of importance to training and cross training of personnel. This training emphasizes the criteria of superior quality. In addition to this training, we provide our assembly teams with the latest in tools and equipment, so that they can perform their work with the greatest productivity, efficiency and accuracy.
We understand the needs of growing manufacturers in a dynamic economy and we respond to these needs. Among the other services we can provide:
Just-In-Time Inventory
Turn-Key Products
Kanban Inventory
Build-To-Print Products
High or Low Volume Production
Prototypes
3D Computer Aided Design (CAD)
All of our design and engineering drawings are computer generated using CAD software. Our primary CAD software is SolidWorks, which offers the greatest flexibility for transferring electronic files to and from our customers and suppliers.
Computerized Engraving
By definition engraving is to write or draw by carving into a hard surface. An obvious advantage of this technique is the fact that it is permanent. Our facility houses automated engraving stations. These highly accurate, computerized machines give you wide latitude of choices, as they may be programmed using numerous types of fonts, custom graphics or logos. Engraved surfaces include but are not limited to aluminum, plastics and laminates.
CNC Sheet Metal Punching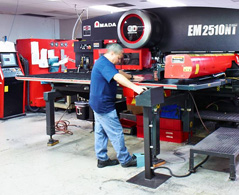 Our CNC punching equipment can be programmed to produce panels or enclosures with very tight tolerances. Our primary machine is a 58 Station Turret Punch Press with 2 "Auto-Indexing" Station. It can punch, sheer, coin and emboss various types of metals and plastics at several hundred punches per minute.
CNC Routing, Cutting and Milling
CNC Machines offer great manufacturing flexibility. Our largest CNC machine features dual 9.5 hp spindles with automatic tool changing, and dual 60" X 60" work surfaces that can be combined for a 60" X 120" surface. Additionally, a vacuum hold system allows for quick changes and set-ups to reduce production time.
Welding and Sheet Metal Fabrication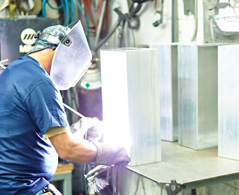 Many of our customers require that we provide their power distribution panels in custom enclosures. To meet these needs, Paneltronics offers complete welding and fabrication capabilities permitting us to build a variety of custom aluminum enclosures quickly and efficiently.
Screen Printing
The art of silk screen printing has been around for many years. We have mastered this art incorporating custom multi-color graphics to the products we manufacture. One of the secrets to this process is the artwork. We generate our own artwork with use of proprietary software and high-resolution laser printers. Another key element of the process is the quality of the inks used. Many years of testing and evaluating have helped us select the highest quality inks to withstand the harsh environments into which our products are placed.
Painting
As indicated above, our products are exposed to extreme conditions and harsh environments. All paint must hold up to salt spray, road chemicals, excessive cold, heat and humidity. Our application process uses the latest techniques and equipment that allows us to meet the most demanding environmental requirements. Each application is performed by highly trained and experienced personnel, to ensure that all final finishes meet your highest standards.
Plastic Injection Molding
Injection molding can be a cost effective option for high volume production. When this method is chosen, we use our in-house tooling capabilities to produce the highest quality molds. Having control of the mold design, tooling and manufacturing, allows us to produce high quality products with extremely tight tolerances. Paneltronics can provide a turnkey product from initial design to finished parts [Box Build].